The Fierce Competition For High-end Early Child Care
by Michelle Ruiz Sunday, October 21, 2012
This article originally appeared in The Daily

"They're hard to get," Rosie Pope warns. "You typically have to lock them down six months before." She's not talking about Super Bowl tickets.

The star of Bravo's "Pregnant in Heels" and the author of "Mommy IQ: The Complete Guide to Pregnancy" issues this grave warning about the booking of baby nurses, live-in "newborn nannies" who help one-percenter parents with the burping, diapering and, most importantly, grueling overnight feedings of their new bundles.

"When the mom wants to sleep, I wake up with the baby," Hazel Tyson, a New York baby nurse who immigrated to the U.S. from Trinidad, explained to The Daily. For nursing moms, Tyson delivers an infant to his mom's breast and immediately retrieves him after feeding. "I put your baby on a schedule and I train your baby to sleep."

Baby whisperers like Tyson - or Rebecca Flores, whose clients' last names include Scorsese, Getty, Whiting and Ford - command salaries ranging from $200 to $500 per day from celebrities, executives and other monied moms and dads, earning as much as $28,000 for a standard three-month stint. The process of booking a baby nurse is competitive; elite parents often secure their baby nurses just three months into the mother's pregnancy.

One nurse, Gina Blackman, recently worked for (and starred with) reality star Bethenny Frankel. Blackman was indispensable to Frankel in helping her premature daughter Bryn adapt to her mom's frantic lifestyle.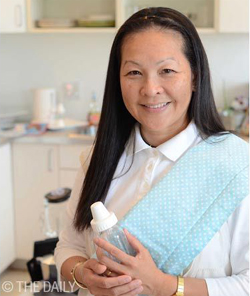 Photo: David Ozmon for The Daily
Rebecca Flores, a baby nurse with
Hampton Domestics
Most baby nurses, or "night nurses," are not U.S. natives, Hochhauser notes, but her employees must have green cards or U.S. citizenship and pass an independent background check. Hiring a non-agency nurse without signing a legal contract can leave privileged parents susceptible to baby-nurse bidding wars.

"Somebody could come along with a better offer," Pope warned. "If this is your newborn baby and [the nurse] comes highly recommended, you're not going to want to let her go."

Many families find it difficult to relinquish the luxury.

"The ones with lots of money can't cope with the idea of losing their baby nurse and they ask them to hang around for months on end," Naomi Greenberg, a baby nurse with the placement agency Hampton Domestics whose clients have included Stephen Graham, son of Washington Post publisher Katharine Graham, told The Daily.

As Manhattan mom Janet Mick wrote in a reference letter for her former baby nurse Rosie Quisido - who also cared for the children of CNN's Campbell Brown and her husband, Mitt Romney advisor Dan Senor - "The only regret I have about hiring Rosie was seeing her go, as she had another position already lined up."

Mick wrote that Quisido quickly became a member of her family, but Greenberg says that's not always the case, especially among nouveau-riche parents.

"The people who grew up with money, those are the ones who treat you the best," she said. "Some of the hedge fund billionaires treat you like you're the refrigerator or the washing machine."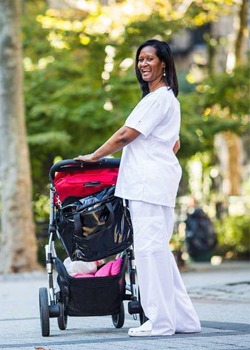 Photo: Bryan Derballa for The Daily
Bethenny Frankel's onetime baby nurse,
Gina Blackman