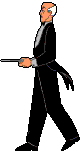 At last, a domestic employment agency that works. Hampton Domestics is owned and operated by Vincent Minuto, who has worked in the domestic field for over 30 years.

A graduate of the Culinary Institute of America at Hyde Park, New York, Vincent started his career at the internationally known restaurant "21", where he cooked for such luminaries as Aristotle Onassis, crowned heads, and presidents. He was the chef / manager for the renowned Donald Bruce White Caterers in New York City, where he met the rest of the world, catering parties in their houses.

Vincent managed the largest private house in Manhattan for 18 years with a staff of 19. He also managed the 200 acre country estate of his employer with a smaller staff of only 14.

Dealing with all the domestic employment agencies over the years he decided to become licensed and bonded by the state of New York, and now is placing staff not only in New York, Palm Beach, and The Hamptons, but also nationwide, and abroad.

He will not place anyone that doesn't meet his standards. "Its all chemistry and I'm good at making long term placements."

Most of his business is referred by satisfied clients. They realize that Hampton Domestics, because of its experienced owner, will find the best people to run their houses effortlessly.