She was a child of New York, a kind of Marjorie Morningstar who grew up on Central Park West and dined and wined on and all over the town. Joie de vivre, it was; and drama too, like behind the scenes with Broadway baby. But always laughter, lotsa laughter. Her many friends still often think of her and her times whenever they pass that building at 62nd and Park. Her idea of a New York cocktail party was the kind us kids dreamed of when growing up out in the boonies. Fun, glamorous, crazy and delicious.

Vincent was her caterer. His greatest specialty for Judy were his cucumber and water cress sandwiches, or "tea sandwiches." They'd be spread out with everything else on the dining room table and half the crowd would be hanging around gobbling them up like candy. It sounds like an exaggeration, but it was true and still funny to remember.

Vincent and I would run into each other over the years, here in Manhattan, out in the Hamptons where he's had a house as long as I've known him. He's a low-key kind of guy, a Sicilian from Brooklyn where his father had a business making sports trophies. His brother still runs it, and his mother who is now 83 still works there. When Vincent was a kid he did a lot of the engraving after school.

Vincent loves his work (and he's got a lot of it); he loves people. He takes everything as it comes, and as a result it's a charmed life. No doubt he'd think so too.

He attended the Culinary Institute (although he says "cooking isn't learned, you're born with it..." He started out as a kid working in the kitchen at "21" and then for a man named Donald Bruce White.

Donald Bruce White (he was always referred to by his three names) was a Broadway actor who had great success as a juvenile but the career cooled off by the time he was an adult. A man who always liked to cook, he fell into catering (a convenient way to grab meal) and turned it into a very successful business here in New York.

White had a roster of clients that still reads like a Who's Who. Vincent learned the ropes from White and when the opportunity came up to work for Bob Guccione, the founder/publisher of Penthouse, he took it. He worked for Guccione for 17 years, as cook and managing the household staff of eighteen as well as the staff of 12 in the Rhinebeck house.

Besides his work with Guccione he was always taking catering assignments on the side. That business grew and somehow led to him developing another business - Hampton Domestics - placing people in the domestic service business. It's not something we hear about when it comes to "employment" matters but it's a thriving business and Vincent is one of the biggest agents in the city, in the Hamptons, in Palm Beach and elsewhere.

He credits his (what I call) success to his years in the catering business. There isn't a name in the Social Register, or among the Quest 400, not to mention corporate rosters, who don't have his phone number.

For years he catered Liz Fondaras' Bastille Day party at her beach house in East Hampton every July, as well as her dinner parties at her Fifth Avenue apartment.

Liz, who died last year in her 90s, always held the buffet lunch at her poolside and her list of guests ranged from local friends to international celebrities and Washington hotshots. The lure for her guests was of course the hostess and her guest list, but to all who knew her it was Vincent's buffet - which included those famous tea sandwiches - that drew the flocks.

After Guccione, he went to work for Leona Helmsley at her estate in Greenwich. Helmsley, who died several years ago, was a controversial figure (known as the "queen of mean") for her meteoric personality. Vincent loved her. When they met, he reminded her that they were first introduced at one of Judy Green's parties. She didn't remember. He also told her they came from the same neighborhood in Brooklyn. That was it; he was hired.

He only stayed on for seven months because he missed the action of the city and the Hamptons. "Mrs. Helmsley was a very lonely woman. She told me that having a lot of money made her life complicated and lonely after her husband died," Vincent recalled.

Vincent plays the piano. It started when he was a toddler and his parents gave him a toy piano for Christmas. When he was twelve, he'd save enough money to buy a used Baldwin grand for $750. Big big money in those days and especially for a kid. It's still in his mother's living room out in Brooklyn. The Hamptons house has one and every Summer he holds recitals for local kids studying piano. At parties, there's music and singing always.

In summertime business moves out to the Hamptons. His catering clientele run from old Social Register families to hot hedge fund people. Vincent provides the staff, the food and sets it all up. He's not one to participate in his clients' parties - as this Diary might be mistakenly conveying. But he sees it all, enjoys what he sees, and thinking of only one thing: making the client happy with what he can deliver. Many of those clients get to know him, just as I did, as a friend because he's open and kind and quick to laugh.

He talked about the golden days for him in Southampton when both Judy Green and Ann (Mrs. Morton) Downey used to entertain Frank Sinatra. Vincent loved Sinatra. They spoke the same language (different inflection), the boy from Brooklyn, the kid from Bayone. Sinatra had a wicked sense of humor and very quick wit. He loved to cook too and was often in the kitchen kibitzing and checking things out. Laughter abounded.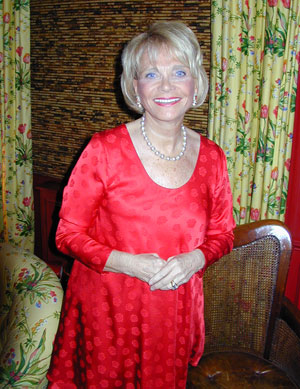 Judy Green, a great friend to many, including this writer, and also to Vincent who was her caterer at her fabulous New York parties.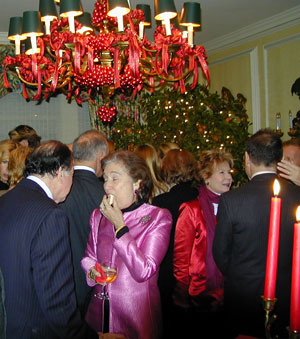 A guest at Judy Green's happily partaking in one of Vincent's tea sandwiches.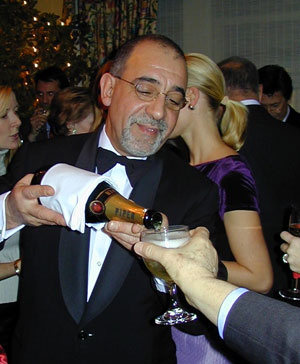 Vincent and Judy made sure the bubbly was never far away.